Interview in Production Partner Magazin with Michael von Keitz and Markus Schmittinger by Detlef Hoepfner
From its headquarters in Solingen, Michael von Keitz runs a group of companies dedicated to the development, production and distribution of professional audio technology. Under this roof, among others, one can find SE Audiotechnik, VUE and the hi-fi brand mivoc. One strength is the now returning business in China – what can we learn from abroad for our German market?
Need some motivation?
Then call or visit Michael von Keitz. Upon arrival, an employee will cheerfully check your face mask as the use of masks is standard everywhere inside the company – and for everyone regardless of whether they are a developer or the boss. The fact that these masks also found their way into the company's own online store is indicative of 2020. On this pandemic autumn day of our company visit, the sky over Solingen in Germany was as grey as everything around us. SE too is feeling the crisis and had to cushion the impact of the economic down- turn with successes from previous years. However, this is not stopping the team from looking ahead optimistically and continuing to work hard on its future. The fact that the company had not been able to "get rid" of some traditional market segments completely has turned out to be a blessing in disguise: SE Audiotechnik is based on the company mivoc, which actually comes from the hi-fi scene. Even today, real sales hits can be found on online portals under the long-established name mivoc. Al- though this may not be able to save a company in distress, it does generate helpful, economic background noise. An- other, almost forgotten pillar is car hi-fi: in 2020, many car fans rediscovered their love for the rave on four wheels and started tinkering again. This also helped SE Audiotechnik get over the crisis.
Already halfway through the crisis? Hard to believe, but the company seems to be half through the crisis already. The reason for this is that it is broadly positioned in various fields from development and production all the way to its portfolio; the latter ranging from mivoc's hi-fi products to SE Audiotechnik's PA to the US premium brand VUE Audiotechnik, which is now completely under its own management. In addition, there is a respectable OEM business, which develops and manufactures audio products for other manufacturers. When it comes to development and production, the company is positioned internationally. Already in 1997, 17 years after founding the company, Michael von Keitz opened his own loudspeaker production facility near Shanghai as a 100% subsidiary without Chinese holdings. Since then, strong joint development and production takes places between Solingen and Shanghai. The plant has 600 employees, around 10% of whom work in development. At the same time, the bond between the teams and the (brand) company is outstandingly strong – a fact that is not typical for the country: employment at the same company, in some cases for decades, is very unusual by Chinese standards. However, the plant is considered a "very European" company and therefore extremely attractive for the local workforce. The management from Germany has a "motivating effect on the employees, as long as they are involved – they are also in key positions: the managing director is Chinese, only the technical manager comes from the US – David Bie is the only foreigner who works permanently in China", says Michael von Keitz, "it works out wonderfully."
Development as equals
However, this esteem is not always the case on the other side too, as – according to some people outside the company – Chinese engineering is not highly regarding in this country. Michael von Keitz considers this attitude to be inappropriate to arrogant. Although the management and large parts of the development are located in Germany, the transfer has long since ceased to follow the simple pattern of "engineered in the West, produced cheaply in the East". A good example is SE Audiotechnik's current M-Line, su- per-compact, slim line array elements with integrated amp- ing and processing. The acoustic idea behind the series comes from the compact line array speakers that the team already brought to market in huge quantities, even as OEMs. The M-Line takes this principle one step further – and also designed its high frequency range using hornless dome tweeters arranged closely in one line. "This product, with which we are so strong in the market today, was developed more or less acoustically. This was followed by questions such as: how shall we design the fly hardware? As a classic four-point? The project then came to a standstill and stood and stood … and somehow nothing really progressed. Our Chinese colleagues then took it into their hands – and developed this wonderful three-point solution. We had reservations at first, but the Chinese colleagues prevailed. We put it on the market, had it tested, and lo and behold: it works and it's reliable. The connector panel is slightly inclined, so that the rain doesn't run into it; we initially turned up our nose over the plastic bottle placed above it. It may not look incredibly professional – but who cares? If it had only been up to us in Germany, it would not have come on the market. But it works wonderfully. The pragmatism that exists in China is simply great fun."

Meanwhile, the product is in its second generation and is getting better and better. The most important feedback during this phase on the way to the M-F3A Pro was market feedback received from sales in China, where sales numbers are huge for this system: five to six thousand units are sold alone in China every year. Further Asian representatives (and thus sales) exist in Thailand, Hong Kong, Malaysia, Vietnam and Korea. "now it's time for Europe, and the next step will be the United States." Markus Schmittinger, Managing Director in Solingen: "We now want to bring the enormous success in China to the West as well; it will only bring benefits to all sides. Here, in our home country, we can make excellent use of our experience to bring new impulses to this rather deadlocked market."
New technology for future formats
There is positive feedback from the audio market in the Far East: it already seems to be back to full power, SE is working at full capacity and is already experiencing demand-related supply bottlenecks for the end of 2020. regarding the European ramp-up of business after the crisis, Markus Schmittinger already sees good prospects: "When we think of the time after Covid-19, the M-F3A Pro comes to my mind: this device weighs only eight kilograms when fully active, meaning that, in the future, rental companies will be able to do jobs with less equipment and personnel. This will be one of the demands when Covid-19 is over. This is our chance to help at this point with equipment that can be set up and taken down with much less personnel. Apart from storage and transport space, I can load a system that can easily pro- vide sound reinforcement for 1,500 people in my SUV or a larger station wagon. It's an enormous saving of costs. To- day, everyone has a large line array with a rig, and you'll use it everywhere simply because it's there. However, if you have to rethink in the future and you might have to go to events alone and avoid a rig, a solution such as this one comes in- to play."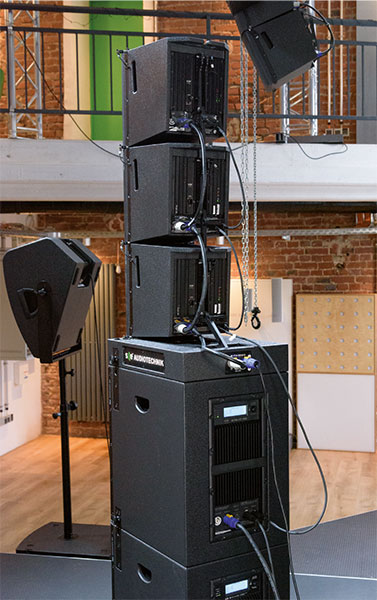 German-Chinese development: Well over 30,000 M-F3A Pro units can be found on the market in 2020.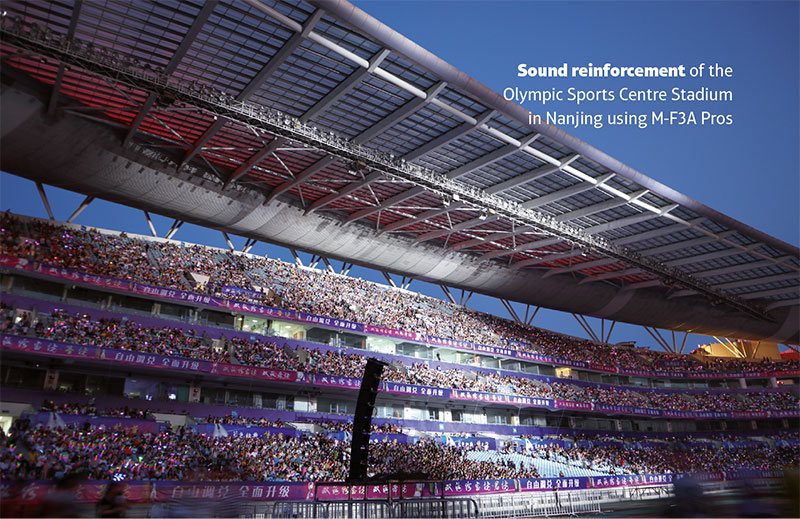 Additionally, it should of course also sound good. Sound engineers are not only surprised by the system's range, Michael von Keitz quotes customer reactions to the sound quality: "That almost sounds like hi-fi, not PA. Our customers also use compression drivers that sound good, but they don't sound like ours and they don't have the same coverage angle either. You have to fiddle a lot. Theatres too are thrilled that they finally have decent sound quality." Markus Schmittinger adds: "The fact that the system is so small and visually unobtrusive is a feature that is important not only for theatres but also for installations. We all know that the biggest enemy of audio technology is the architect who says: 'You're not going to put your big black speaker in my beautiful design!' That's why all models are also available in white."
Show formats in China
Chinese productions have realized shows "that we thought were absolutely impossible", says Markus Schmittinger. "There are historical stage spectacles such as Back to Tang Dynasty with a huge, 40 meter wide stage set, where no speakers were allowed to be seen at all. But at the same time, an immersive sound experience was called for – meaning a far greater effort than, for example, at the Bregenz Festival in Austria. It was really amazing, their solution was brilliant, and you just don't see a single speaker – nothing! Everything is integrated into the stage set, and that's the great thing about this system: you can hide it perfectly and still have the power and sound that opens up." Michael von Keitz: "Because it weighs nothing, you'll never have problems with the suspension. If I fly six elements, they will weigh just short of 50 kg – that's nothing. I can work with every ceiling, every truss, it always works. And our Chinese counterparts are doing even crazier things still: a year ago, they announced a stadium event with 10,000 visitors using M-F3A Pros, and we just asked: what? They then showed us how to do it and flew 18 elements in a line for the music, another 18 for the vocals, and then a proper battery of subwoofers underneath. not only was this possible, the result was fabulous. Most recently, we used the system for a month-long EDM festival in Shanghai: 50 shows with 5,000 visitors each – and all of that during the rainy season. In this case, the system also consisted of subwoofer lines flown on the left and right side of the stage as well as sub- woofers on the ground. This shows the flexibility of a sys- tem like this. Apart from their joy of experimenting, they have of course also started to 'run up'. One can now find about 30,000 to 40,000 speakers of this system on the mar- ket as well as some very large and experienced users."
But can Chinese demands, or even Chinese taste in sound, be transferred so easily? "Our teams are working together very closely and are creating appropriate pre-sets to suit all tastes and meet different expectations. So now we have a basic tuning and several pre-sets – and these are popular everywhere. The customer asks himself: 'Does it sound natural? Does it have the right distribution angle? Does it produce the right SPL without distortion?' Opinions do not differ that much here. A realistic sound is a realistic sound."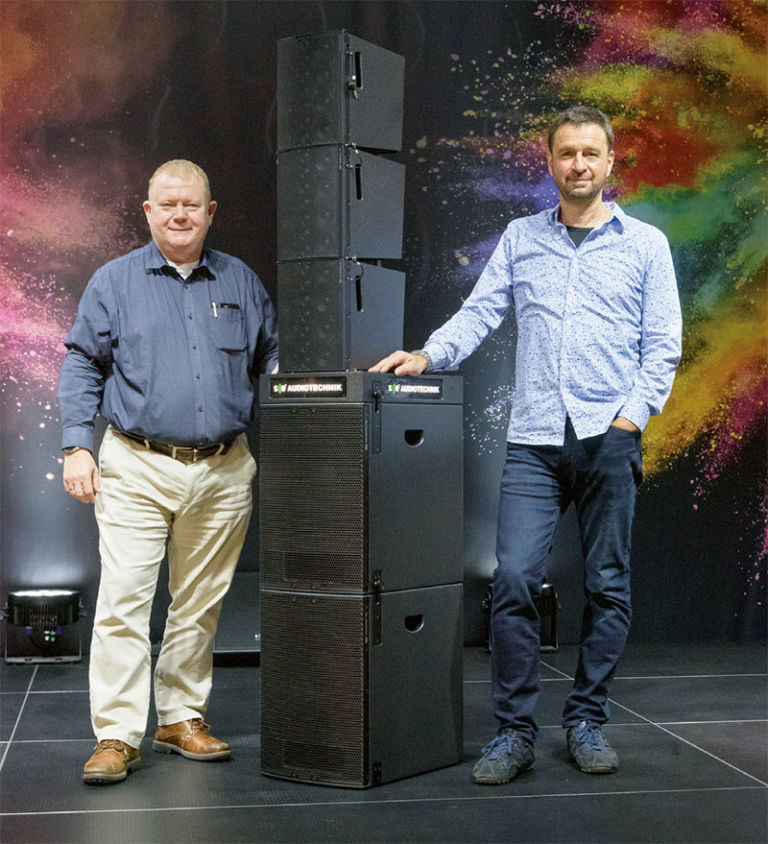 Less rigs in the future? Markus Schmittinger and Michael von Keitz see logistical advantages in the M-F3A Pro's format.
Dare to change
Market acceptance, however, does not only depend on acoustic performance. Out of caution or a need for security, there is a great deal of reluctance to make too many changes on the part of decision-makers or project managers. "A rental company's largest fear is having the wrong equipment," says Markus Schmittinger, and adds: "Its second largest fear is not being perceived as 'professional' because the quality is not right. This is all understandable, but it's a mental thing. If someone says about small systems: 'I can't land them here', then this person is afraid that customers will think: 'Oh, this can't be serious. Did he fob me off with something cheap?' It's the granny factor: a grandmother comes to the wedding, sees the big speaker and gets a fright: 'Oh my, this is going to be so incredibly loud!' This also exists vice versa: 'Such a small speaker, it can't be professional. You must be joking'."
Michael von Keitz adds: "On the other hand, column loudspeakers have taken the market by storm and have proven the opposite. People saw the 'sticks' and thought, what is that? Meanwhile, nobody ridicules them anymore. You can even place them at the back of a stage because they produce so little feedback and they are selling like hot cakes. It's all right. You have to be a bit persistent in the beginning. And we dare be it." When discussing how and in which audio quality events could be staged decades ago and on which level the industry is nowadays, Markus Schmittinger recalls an old rule: "In the past, the three-step order was: 1. Make sound. 2. Continue to make sound. 3. If possible, make good sound. At the time of Woodstock that was certainly true but in the meantime, we have moved on." Michael von Keitz links this to the present day and to his crew, which in Solingen alone is already made up of people from six different countries: "We have a whole team here of up to thirty-year-olds – they take a completely different approach. In China, the average sound engineer is 35 years old and has a lot of confidence. The mindset is already different." The community of audio engineers in China is indeed very young and well trained. The Chinese branch was recently delighted to hire another young female audio engineer, who studied in Beijing and then planned theatre technology for Cirque du Soleil, as an application engineer. The US team is also currently being expanded: the parent company is using the time of crisis to secure additional resources and know-how. And where can you actually talk to the owner personally? Michael extends an invitation: "Everyone is invited to visit us here and ask us their questions."
Offer an enhanced listening experience
In closing, Markus Schmittinger mentions the enormously changed listening habits: "If some people would go into a concert hall today to hear music coming purely out of an instrument, without amplification, the signal will somehow seem too small to them. We have become accustomed to listening through loudspeakers, like hearing through magnifying glasses and receiving an impression that is 'larger than life'.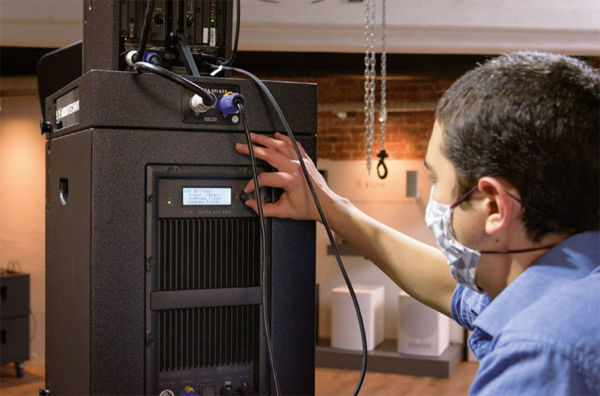 Jose Miguel Cadavid is a member of SE Audiotechnik's young, international audio engineering team.
This makes the streaming of living room concerts difficult sometimes, as you might think that it sounds somehow 'small'. We therefore also need to look at how people listen today, what they are used to, and how to give them an enhanced listening experience. That was our message in China, which resonated enormously there and which we would now like to communicate in Europe and in the United States: we are not the loudest on the market, but the ones who have the most accurate and simply natural sound. So that people enjoy listening to it because it never sounds unpleasant."