12"/1" coaxial loudspeaker system
Introducing COX 12 MKII – a 12"/1" coaxial loudspeaker system – a great solution for any sound application. Whether you are looking for a high-quality audio system for installation projects or need a small, portable setup for mobile and monitoring applications, these speakers have it all.
With its 12" woofer and 1" compression driver in coaxial configuration, this small and versatile loudspeaker delivers a clear and coherent sound with a great sound localization and uniform sound dispersion. With its compact dimensions and unobtrusive appearance, COX 12 MKII can be used as a stage monitor, small PA system or install loudspeaker system in larger venues.
SE AUDIOTECHNIK IA amplifiers and L-Line amplifiers provide the required power for the signature COX 12 MKII sound. SE subwoofers such as B 15(A), B 18(A), S15 PRO and CV-118B are a perfect complement for the low frequency range.
12" woofer (3" VC), 1" PEN compression driver, 2-way coaxial system | 400 W continuous power handling (1,600 W peak) | up to 136 dB SPL | 98 dB sensitivity (1W/1m) | 52 Hz – 20 kHz usable frequency range
Can be used on the floor, standing, suspended or wall mounted | M8 flying points | expandable with SE subwoofer lines | can be powered with SE IA installation and L-Line power amplifiers | speakON® and 4-pin Phoenix connectors | audio signal pass through
Wooden enclosure | polyurea coating | rugged front grille | multifunctional enclosure shape | ergonomic rear handle | 36 mm pole mount
Suitable for installations, bars, stage monitoring, side and front fills, architectural sound and mobile sound applications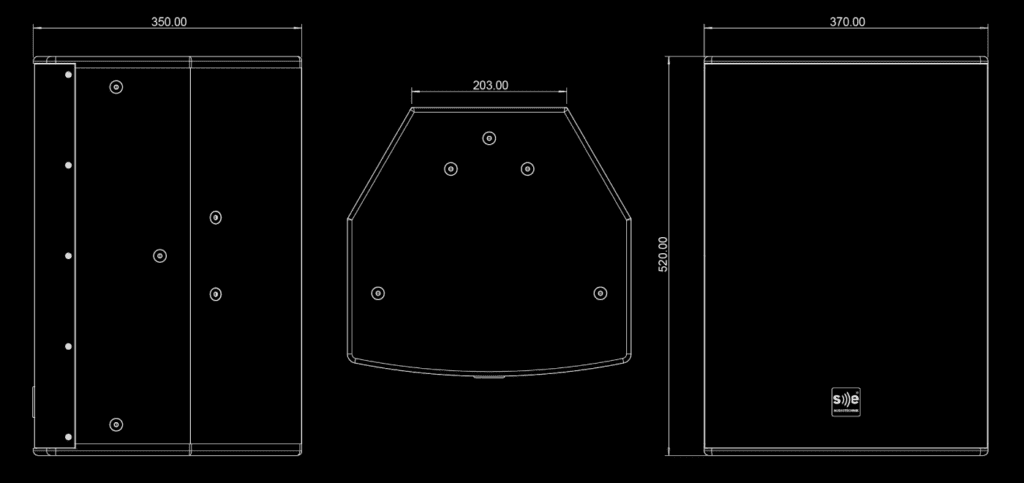 Model:
COX 12 MKII
ACOUSTICAL
Frequency Response (-3 dB)*:
134 Hz – 17 kHz
Frequency range (-10 dB)*:
52 Hz – 20 kHz
Coverage angles (-6 dB) [H x V]**:
70° x 74°
Coverage angles (-6 dB) [H x V]***:
96° x 92°
Nominal impedance:
8 Ω
Sensitivity*:
98 dB
Peak power:
1600 W
Continuous power****:
400 W
Maximum Peak SPL*****:
136 dB
System type:
2-way coaxial system
Crossover frequency:
1.3 kHz
Transducers:
Coaxial driver with:
LF: 1 x 12″ driver (3″ voice coil)
HF: 1″ PEN compression driver (1.7″ voice coil)
Enclosure type:
Vented box
Connectors:
Neutrik speakON® NL4
Phoenix 4-Pin Verbinder MSTB
Wiring:
speakON® NL4: Pins 1+ / 1- : Treiber; Pins 2+ / 2- : N.C.
Phoenix: Pins 1+ / 1- : Treiber; Pins 2+ / 2- : Link
MECHANICAL

Product dimensions [H x W x D]
(Including rigging):
520 x 370 x 350 mm
Weight:
19.5 kg
Packaging dimensions
[H x W x D]:
633 x 470 x 450 mm
Total weight:
22 kg
Cabinet:
15 mm plywood
Cabinet finishing:
Black polyurea coating
Grille:
Powder coated perforated steel
Hardware:
1x rear handle embedded in cabinet
1 x bottom 36 mm socket for pole mounting
Rigging:
5 x M8 for mounting on top and sides
3 x M8 for mounting at the bottom
2 x M8 for mounting on the rear
ACCESSORIES
Wall Mounting Bracket
COX12 WB
Distanzstange
SPS20
All product specifications are subject to change without notice.
* Full space, 1W / 1m, on axis
** Coverage angles at 4 kHz
*** Coverage angles mean value (800 Hz – 6 kHz)
**** Gemäß EIA-426B Standard
***** Max Peak SPL = Sensitivity + 10log10(Continuous Power) + 12 dB Crest Factor

EU Declaration of Conformity – Rigging and Accessories
Downloadfile
EU Declaration of Conformity – Passive Loudspeakers
Downloadfile