The L 65 performs great in every application! This passive 3-way line array is a reliable, scalable all-rounder for install and mobile applications. With an SPL of 139 dB at a weight of less than 23 kg, the sound is massive and sounds in every frequency range homogeneous and great. Rigging is easy ‒ the integrated four-point rigging system allows for safe and uncomplicated suspension.

The L 65 features a passive 3-way system ensuring linear transmission in the crossover frequency range and optimized power performance.

The drivers (LF: 2 x 6.5″, MF: 4 x 3.5″ HF: 2 x 1″) provide an assertive, neutral sound across the entire frequency range. Thanks to the passive construction, you can use up to four L 65 on a single power amplifier channel. This makes the combination of L 65 and LA 10.4 D a cost-effective system.

We developed the L 65 in Germany and matched all components to one another precisely to deliver a wide frequency range and high maximum sound pressure with minimal distortion. With their tough outer skin, low weight and fast array assembly and disassembly, the L 65 is ideal for fixed and mobile installations and also a great tour companion.

Its homogeneous sound characteristics as well as mechanical and acoustical design can perfectly combine with other elements of the L-Line. The super smart inline concept holds the opportunity to add L 35 as downfills by using a simple under frame bumper. Adding the L-Line flyable subwoofers guarantee for rich and powerful lows.
The symmetrical layout generates a
homogeneous horizontal coverage
. Equipped with
two 6.5" low frequency drivers, four 3.5" mid-frequency drivers and two 1" high-frequency drivers
the
L 65
can reach up to
139 dB of sound pressure
. The
acoustical
and
electrical design
ensures
optimized performance
throughout the entire frequency range from
60 Hz to 18 kHz
.
Save valuable time! The integrated four-point rigging system enables you to build suspended line arrays fast with very low effort.
22.7 kg of weight
the
L 65
line array cabinet is easy to handle and supports the lightweight
system approach
of the complete
L-Line
.
With the 
L 65
's passive crossovers, 
fewer amplifier channels are required
to setup a full line array system.
L 65
is
half as tall
as the 
L 65 FS
 and
twice as tall
as our
compact 

L 35
. With the
four-point rigging system and accessories
, it is 
easy to integrate

L 65
into existing systems.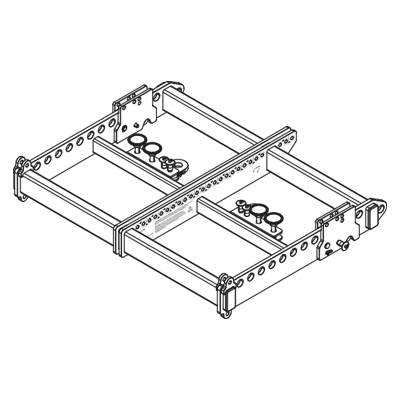 The
L 65

Bumper Frame
can be used to hang or stack
L 65
and
L 65 FS
.

The
L 65

Under Frame Bar
can be used as an adapter to hang
L 35
under
L 65
.

Model:
L 65
ELECTRO-ACOUSTICAL
Frequency range (-3 dB)*:
95 Hz – 17.5 kHz
Frequency range (-10 dB)*:
60 Hz – 18 kHz
Coverage angles (-6dB) [H x V]:
100° x 20°
Nominal impedance:
12 Ω
Sensitivity *:
103 dB
Peak power:
1000 W
Continuous power **:
250 W
Maximum Peak SPL ***:
139 dB
System type:
3-way passive system
Crossover frequency:
MF: 400 Hz
HF: 1.8 kHz
Transducers:
LF: 2 x 6.5″ woofers (2″ voice coil)
MF: 4 x 3.5″ drivers (1″ voice coil)
HF: 2 x 1″ compression drivers (1.4″ voice coil)
Enclosure type:
Vented box
Connectors:
1x Input signal
1x Link output
Neutrik speakON® NL4
Wiring:
Pins 1+/1- (both NL4): drivers
Pins 2+/2- (both NL4): link signal
MECHANICAL
Product dimensions [H x W x D] (Including rigging):
237 x 766 x 383 mm
Net weight:
22.7 kg
Packaging dimensions [H x W x D]:
363 x 810 x 480 mm
Total weight:
25 kg
Cabinet:
12 mm plywood with die-cast aluminum front
Cabinet finishing ****:
Black or white polyurea coating
Grille:
Powder coated perforated steel
Hardware
Two side handles in plywood embedded in cabinet
Two rear heatsink panels
Rigging:
Four-point rigging system: two front and two rear 8 mm SE Audiotechnik® locking pins
Splay angles:
0º, 1º, 2º, 3º, 4º, 6º, 8º
Stacking:
Two-point SE Audiotechnik® stacking system
ACCESSORIES
Bumper frame:
L 65 BF
Under frame adapter:
L 65 UFB
All product specifications are subject to change without prior notice.
* Whole space, 1W / 1m, on axis (depending on amplifier preset)
** According to EIA-426B Standard (based on RMS Voltage)
*** Max Peak SPL = Sensitivity + 10log10(Continuous Power) + 12 dB Crest Factor
**** White cabinet finish on request
***** Hardware and technical data of outdoor versions can be different

EU Declaration of Conformity – Passive Loudspeakers
Downloadfile
EU Declaration of Conformity – Rigging and Accessories
Downloadfile