Fundament for the great sound
When there is no room for floor subwoofers in front of the stage, and you need a wide dispersion, the L 65 FS is a brilliant solution in an L-Line array. This slim flyable subwoofer provides a massive boost and punchy and clear bass from 45 Hz upwards. This makes it suitable for fixed and mobile installations, sound rental companies and any live events with high sound performance requirements.

The powerful 15″ driver with neodymium magnet provides a stable bass foundation ‒ thus, the L 65 FS remains pleasantly light. At only 30 kg, it is easy to handle and allows for an uncomplicated use. Its compact shape and its sound pressure of 131 dB make the L 65 FS a reliable sound companion. The L 65 FS features the same integrated four-point rigging system as the L 65 and allows for quick and easy system setup. Both, in terms of the sound characteristics and the dimensions, it is ideal as a complement to L 65 arrays. Angles of up to 8° provide additional flexibility to align flying sound systems.

Thanks to its versatile mounting options and balanced sound characteristics, the L 65 FS is also a sophisticated and aesthetic solution for installations. With fixed installations, its compact size and minimal weight come to the fore ‒ and it sounds much "heavier" than it is.

Furthermore, in applications where seating is close to the stage, you will appreciate flying this lightweight, powerful bass. Wherever the journey takes you, this flysub is the brilliant solution for every job.
The powerful 15" neodymium speakers ensures a punchy and dynamic sound from 45 Hz upwards. With exceptional 131 dB SPL, there is enough power to feel the bass.
Save valuable time! The integrated four-point rigging system enables you to build suspended subwoofer lines and mixed line arrays fast with very low effort.
30 kg of weight the L 65 FS flyable subwoofer is not only compact, easy to handle but also fully integrated in the system approach of L-Line.
The L 65 FS is twice as tall as the L 65 and four times as tall as our compact L 35. This allows you to integrate it into existing systems with the same visual appearance. The four-point rigging system and accessories ensure an easy integration of L 65 FS into existing systems.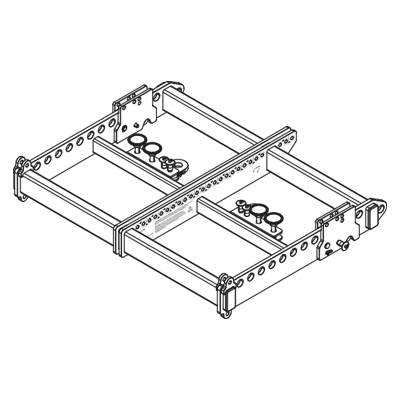 Universal bumper frame can be used on the upper side of the unit for hanging or for stacking with another
L 65 UFB
.

The
L 65

Under Frame Bar
can be used as an adapter to hang
L 35
under
L 65
.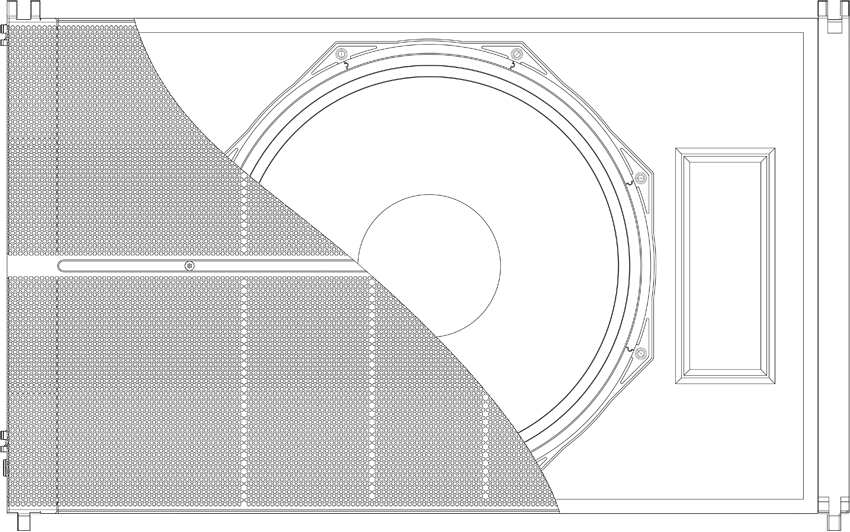 Model:
L 65 FS
ELECTRO-ACOUSTICAL
Frequency range (-3dB)*:
60 – 200 Hz
Frequency range (-6dB)*:
45 – 275 Hz
Coverage angles (-6dB) [H x V]:
Omnidirectional
Nominal impedance:
8 Ω
Sensitivity*:
92 dB
Peak power:
2000 W
Continuous power**:
500 W
Maximum Peak SPL***:
131 dB
System type:
1-way passive system
Transducers:
1 x 15″ woofer (4″ voice coil)
Enclosure type:
Vented box
Connectors:
1x Input signal
1x Link output
Neutrik speakON® NL4
Wiring:
Pins 1+/1- (both NL4): drivers
Pins 2+/2- (both NL4): link signal
MECHANICAL
Product dimensions [H x W x D] (Including rigging):
447 x 766 x 385 mm
Net weight:
30 kg
Packaging dimensions [H x W x D]:
573 x 810 x 480 mm
Total weight:
33 kg
Cabinet:
12 mm plywood with die-cast aluminum front
Cabinet finishing ****:
Black or white polyurea coating
Grille:
Powder coated perforated steel
Hardware
Side handles in plywood embedded in cabinet
Rigging:
Four-point rigging system: two front and two rear 8 mm SE Audiotechnik® locking pins.
Splay angles:
0º, 1º, 2º, 3º, 4º, 6º, 8º
ACCESSORIES
Bumper frame:
L 65 BF
Under frame adapter:
L 65 UFB
All product specifications are subject to change without prior notice.
* Whole space, 1W / 1m, on axis (depending on amplifier preset)
** According to EIA-426B Standard (based on RMS Voltage)
*** Max Peak SPL = Sensitivity + 10log10(Continuous Power) + 12 dB Crest Factor
**** White cabinet finish on request
***** Hardware and technical data of outdoor versions can be different

EU Declaration of Conformity – Passive Loudspeakers
Downloadfile
EU Declaration of Conformity – Rigging and Accessories
Downloadfile