8"/1.75" coaxial loudspeaker system
Introducing COX 8 MKII – an 8"/1.75" coaxial loudspeaker system – a great solution for any sound application. Whether you are looking for a high-quality audio system for your installation projects or need a compact portable setup for mobile and monitoring applications, this loudspeaker has you covered.
With its 8" woofer and 1.75" PEN compression driver in coaxial configuration with a co-magnetic design, this compact and versatile loudspeaker delivers a clear and coherent sound with an excellent sound localization and uniform sound dispersion. Thanks to its versatility, compact dimensions and unobtrusive appearance, the system is suitable for a wide range of applications.
In terms of installation, COX 8 MKII is easy to set up and can be used as either a floor, standing, wall mounted or suspended sound system. The SE AUDIOTECHNIK IA amplifiers provide the necessary power for the unique, balanced COX 8 MKII sound. As a low bass extension, the SE subwoofers C6 SE, S12 PRO, S15 PRO, S112i PRO and B 15(A) are a great choice.
8" woofer (2" VC), 1.75" PEN compression driver, 2-way coaxial system | 250 W continuous power handling (1,000 W peak) | up to 132 dB SPL | 96 dB sensitivity (1W/1m) | 74 Hz – 20 kHz usable frequency range | only 7.8 kg
Can be used on the floor, standing, suspended or wall mounted | Smart Mounting Bracket (SMB) option | M8/M5 flying points | expandable with SE subwoofer lines | matches perfect with SE IA installation power amplifiers | speakON® and 4-pin Phoenix connectors | audio signal pass through
Wooden enclosure | polyurea coating | rugged front grille | multifunctional enclosure shape
Suitable for installations, conference rooms, bars, stage monitoring, side and front fills, architectural sound and small mobile sound applications COX8 WB Wallmount Bracket SMB Smart Mounting Bracket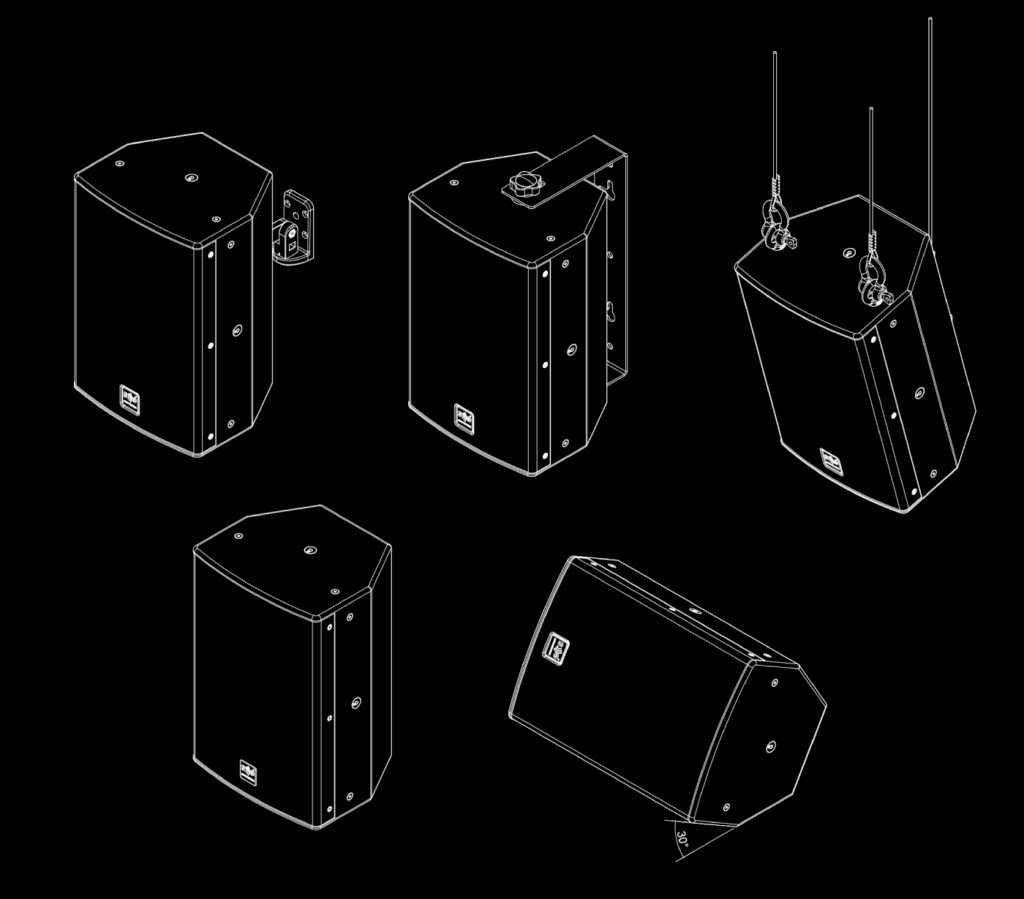 Model:
COX 8 MKII
ELECTRO-ACOUSTICAL
Frequency Response (-3 dB)*:
102 Hz – 16 kHz
Frequency range (-10 dB)*:
74 Hz – 20 kHz
Coverage angles (-6 dB) [H x V]**:
114° x 100°
Mean Coverage angles (-6 dB) [H x V]***:
122° x 116°
Nominal impedance:
8 Ω
Sensitivity*:
96 dB
Peak power:
1000 W
Continuous power****:
250 W
Maximum Peak SPL*****:
132 dB
System type:
2-way coaxial system
Crossover frequency:
1.9 kHz
Transducers:
Coaxial driver with:
LF: 1 x 8″ driver (2″ voice coil)
HF: 1x 1.75″ PEN compression driver
Enclosure type:
Vented box
Connectors:
Neutrik speakON® NL4
Phoenix 4-Pin Verbinder MSTB
Wiring:
speakON® NL4: Pins 1+ / 1- : driver; Pins 2+ / 2- : N.C.
Phoenix: Pins 1+ / 1- : driver; Pins 2+ / 2- : link
MECHANICAL

Product dimensions [H x W x D]
(Including rigging):
352 x 240 x 208 mm
Weight:
7.8 kg
Packaging dimensions
[H x W x D]:
460 x 342 x 310 mm
Total weight:
9.1 kg
Cabinet:
12 mm plywood
Cabinet finishing:
Black polyurea coating
Grille:
Powder coated perforated steel
Rigging:
6x M8 rigging points: 1 on the top, 3 on the bottom, 1 on each side
6x M5 rigging points: 2 on the top, 2 on each side, 2 on the bottom
1x mounting point for SMB bracket on rear side
ACCESSORIES
Wall Mounting Bracket
COX8 WB
Smart Mounting Bracket
SMB
All product specifications are subject to change without notice.
* Full space, 1W / 1m, on axis
** Coverage angles at 4 kHz
*** Coverage angles mean value (800 Hz – 6 kHz)
**** According to EIA-426B Standard (based on RMS Voltage)
***** Max Peak SPL = Sensitivity + 10log10(Continuous Power) + 12 dB Crest Factor
EU Declaration of Conformity – Rigging and Accessories
Downloadfile
EU Declaration of Conformity – Passive Loudspeakers
Downloadfile