One key to a good performance is a good monitor!
The active SMX 12A is a compact, extremely versatile 2-way coaxial monitor in bass reflex design. Thanks to the built-in 12″ LF with powerful 3″ voice coil and a 1″ HF with a 1.7″ voice coil, the SMX 12A monitor is powerful and assertive in any mix and feature a harmonious, neutral sound character. This allows any musician to hear themselves better and bring out every nuance of their performance. The clearly audible signal in the 80° x 80° coverage angle is easy on any singer's voice – the more precise they hear themselves, the less effort is required for their performance. At the same time, the SMX 12A monitor remains uncomplicated and feedback-proof.
The SMX 12A boasts a 2-channel Class-D amplifier with a total power of 484 W (LF: 416 W @ 6.5 Ω, HF: 68 W @ 14 Ω) on board. So there is no need for an external device – the internal amp is optimally matched to the speakers and brings eight DSP presets to make the set-up as short and simple as possible.
SMX 12A can also be used in combination with subwoofers such as the S 15 PRO for small to medium-sized events, or for fixed installations. The recessed I/O panel ensures a neat and tidy appearance on stage or in any other application. Equipped with M10 fly points and accessories like the SMX 12 UB U-bracket, SMX 12A can be utilized for applications where the speaker needs to be mounted to a wall, ceiling, truss or speaker stand. The optional padded cover SMX 12 TC protects the monitor during transport and storage.
12" High efficiency woofer
SMX 12A
is a compact yet powerful tool for various monitoring requirements on and off stage.
8 intelligent DSP presets
Gain and a special preset selector with 8 practical factory settings increase the application range.
Due to the recessed I/O panel of the monitoring system, no connectors are visible to the viewer.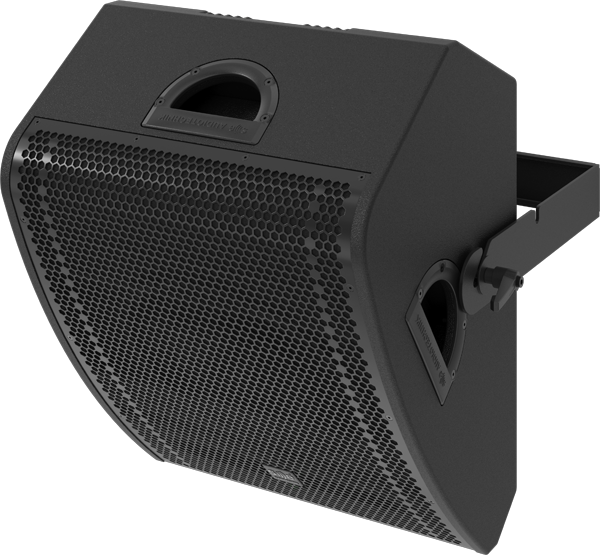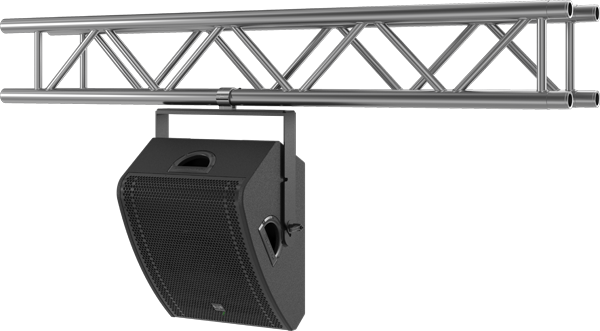 SMX 12
and
SMX 12A
are excellent stage monitors – and much more. The
extensive
accessories
allow for a large number of different applications besides classic monitoring. The centrepiece is the
SMX 12 UB

mounting frame
– it allows the
SMX 12
and
SMX 12A
to be tilted steplessly, for example, for
wall mounting.
With the
SMX 12A

mounting pole,
the SMX monitors can be mounted on a subwoofer in a flash and thus become an
ultra-portable PA system
or a quickly
set-up side
fill. Rigging is also possible with the
SMX 12
or
SMX 12A
flown as front fill, for example. In short, using the speakers of the
SMX Series
exclusively as monitors is an excellent choice – but almost a waste.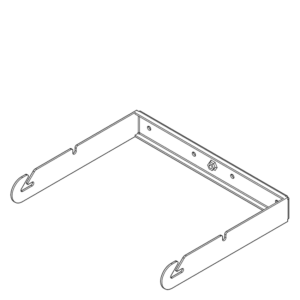 This
U-bracket
provides mounting holes for
wall mounting
or
pole support
adapter
PS35
or other industry-standard hardware, like truss clamp.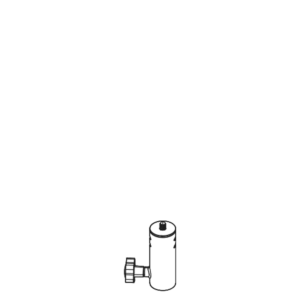 Pole support adapter, model
PS35

, M10
to
35 mm
speaker poles.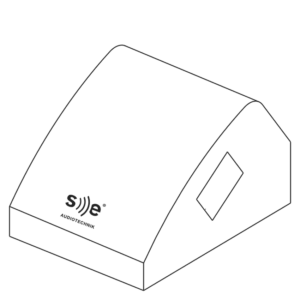 SMX 12
transport and storage protection cover

Model:
SMX 12A
ACOUSTICAL
Frequency range (-3 dB)*:
65 Hz – 17 kHz
Frequency range (-10 dB)*:
60 Hz – 20 kHz
Coverage angles (-6dB) [H x V]:
80° x 80°
Maximum Peak SPL *:
129 dB
System type:
2-way coaxial system
Transducers:

Coaxial driver with:
LF: 1 x 12″ driver (3″ voice coil)
HF: 1″ compression driver (1.7″ voice coil)

Enclosure type:
Vented box
AMPLIFICATION
Type:
2 channel, class-D with SMPS
Total power **:
484 W
Output power (per channel):
LF: 416 W @ 6.5 Ω
HF: 68 W @ 14 Ω
Protection:
Short circuit, overheating, overcurrent, 2-band limiter
Connectors:
Input Signal: balanced XLR 3-pin female or balanced 6.5 mm TS jack
Link output: balanced XLR 3-pin male
Power input: powerCON® 20A
Power link output: powerCON® 20A
Operating Voltage:
100 VAC – 240 VAC, 50 – 60 Hz
Wiring:
Pin N: Neutral
Pin L: Conductor
Pin E: Ground
Input sensitivity:
0 dBu
DSP:
48 kHz/24-bit with extended dynamics
Processing latency: 1.1 ms
Processing:
Level, factory EQ presets
User controls:
Power: ON/OFF switch
Level: 8-position rotary knob (-50, -20, -10, -4, -2, 0, +2, +4)
DSP presets: 8-position rotary knob
MECHANICAL
Product dimensions [H x W x D] (Including rigging):
368 x 450 x 575 mm
Net weight:
22 kg
Packaging dimensions [H x W x D]:
447 x 535 x 660 mm
Total weight:
25 kg
Cabinet:
15 mm plywood
Cabinet finishing:
Black polyurea coating
Grille:
Powder coated perforated steel
Hardware:
1 top and 2 side handles embedded in cabinet
Rubber feet
2 x M10 for U-bracket mounting
ACCESSORIES
U-bracket:
SMX 12UB
M10 screw to 35mm pole socket:
PS35
Transport cover:
SMX 12TC
All product specifications are subject to change without prior notice.
* Measured with 12 dB Crest factor Pink Noise, Whole space
** Total power value is the sum of all individual channel output power
SMX 12A Architectural Specifications EN
Downloadfile
EU Declaration of Conformity – Rigging and Accessories
Downloadfile
EU Declaration of Conformity – Self-Powered Loudspeakers
Downloadfile