Eat Play Love 2023 - Cologne
IMM-Professional – Alfeld (Leine)
From now on, you can see and hear our 15″ / 18″ and 21″ B-Line active basses from SE AUDIOTECHNIK for fat beats at IMM – Professional. For somewhat more discreet bass applications, active S12 PRO are also available for rental and sale.
Also ready for testing at IMM-Professional are the active and lightweight (8 kg) M-F3A PRO tops.
Peter Hecht: "SE AUDIOTECHNIK roadshow in 2021 brought the products to our attention and inspired us. We are very convinced of the quality of workmanship, the extraordinary sound, the range of the very light tops of the M-Line. The fast handling is unique for DJs. Bands and all users who also need proper bass."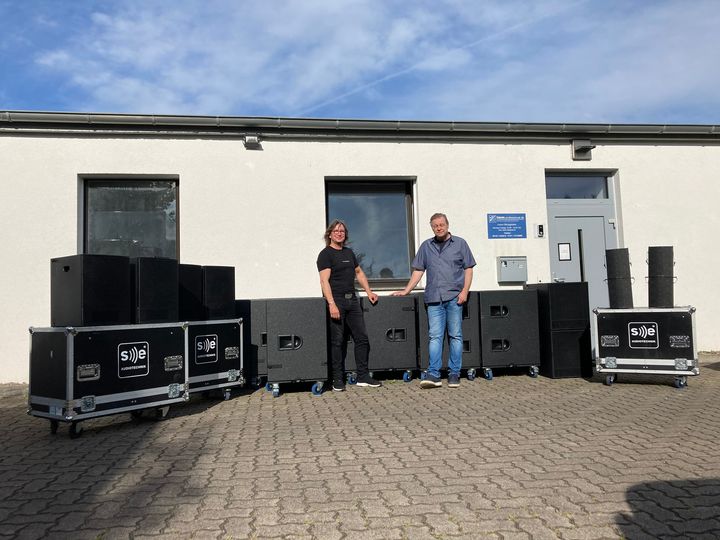 And blowing across the pitch is also possible!
Music shop Ahrends in Großefehn
From now on, SE AUDIOTECHNIK offers products from the M-Line for its rental and for sale out of conviction and after several tests.
Gert Ahrends: "We are very enthusiastic about the quality and range of the M-F3A PRO tops!"
Hans-Gert Ahrends also has 12″ and 15″ basses ready for testing and sale.
The I-Line line speakers IC 32, IC 34 plus the power amplifier IA 202 D are and have already been installed in various projects due to the very good price-performance ratio.
Clear the stage for cabaret!
"Mechanically well thought out, easy to handle. The PA system does exactly what a good PA system should do." Soundlab managing director Nic Drexel is a selected premium partner of SE Audiotechnik.
"Your system," says the experienced sound engineer, "convinced me spontaneously during the on-site demo. On top of that, the system simply sounds very good and can be used universally."
We are so proud to be part of this project! avonlyd.no installed 4x M-F3A PRO on each side of Jødisk Museum Trondheim – and they made the PA moveable on a mechanical custom-made studio track! This is because the synagogue – which is connected to Jødisk Museum Trondheim – also hosts a lot of concerts, so you need to be able to quickly set up a stage for them. And it works so well! Rita Abrahamsen is very happy with the result with our super light, tiny but powerful M-F3A PRO arrays!
Fruchthalle Kaiserslautern
A nice application example for the compact line arrays from SE AUDIOTECHNIK is the Digitaltag in Kaiserslautern.
In the Fruchthalle, our most popular product, the M-Line, provided feedback-free 360° sound reinforcement. The top-class event took place on the topic of digitalisation and 5G. Kaiserslautern is one of five digital model regions in Germany. Jörg Kirsch from Kirsch Veranstaltungstechnik equipped the hall.
Jan Hendrik Banaschewski (Technical Manager of the Stadthalle Bremerhaven): "We came across SE AUDIOTECHNIK from Solingen during our search for a new sound system for high-level conferences, among other things. We were promptly given the opportunity to have a demonstration of the M-Line at our premises. Manne Sumfleth from SE AUDIOTECHNIK, in cooperation with Blue Sound / Herbert Heinze as the implementing partner, demonstrated the advantages of the compact but also very powerful M-Line system to us."