Crystal-clear sound with SE AUDIOTECHNIK at citizens' meeting
A nice application example for the compact line arrays from SE AUDIOTECHNIK is the Digitaltag in Kaiserslautern.
In the Fruchthalle, our most popular product, the M-Line, provided feedback-free 360° sound reinforcement. The top-class event took place on the topic of digitalisation and 5G. Kaiserslautern is one of five digital model regions in Germany. Jörg Kirsch from Kirsch Veranstaltungstechnik equipped the hall.
"Technically, several screens and screens were used interactively," says the experienced sound technician from Katzweiler. He has been hosting events for 30 years, from trade fairs to concerts to car shows. "The entire hall," says Jörg Kirsch, "was used on two levels. The central action area was in the middle, with the actors moving through the entire hall. Headsets and wireless handheld microphones were used."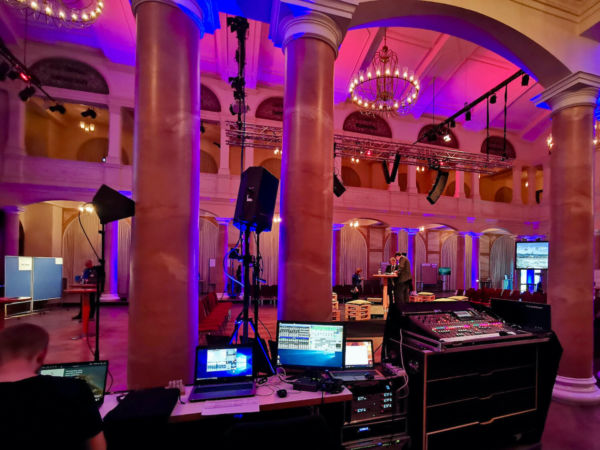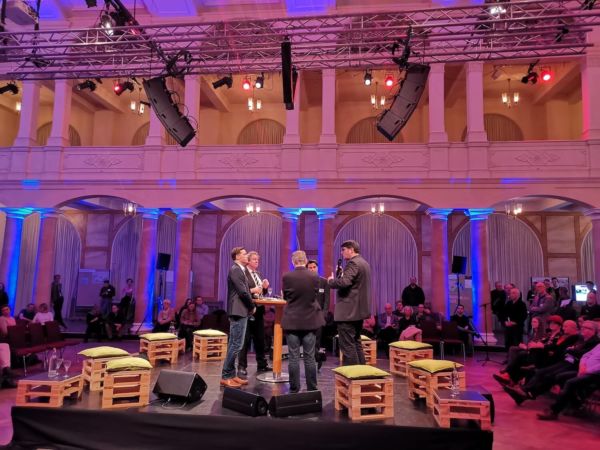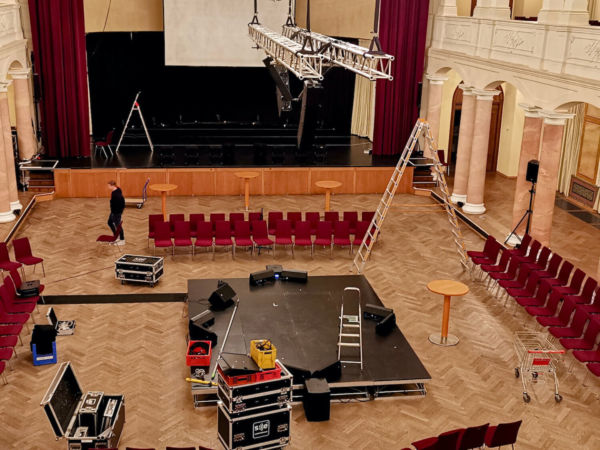 The requirement was excellent speech transmission and an attractive appearance, without disturbing technology in the field of vision. Jörg Kirsch therefore decided on the M-Line system:
"In addition to a few nearfills, the main sound reinforcement was mounted flying above the stage, with the long distances being transmitted by one quad-curved M-F3A PRO each. The bass range was handled by four S12 PROs lying on the floor. This also allowed the music feeds to be transmitted with full frequency spectrum."
His conclusion: "The entire event was characterised by a crystal-clear, feedback-free transmission at all listening positions." The information event took place in 2020 with Lord Mayor Dr Klaus Weichel, among others. The motto was #SmartCities.
Technology used
The handy M-F3A PRO speakers are perfect for events from 50 to 2000 people. Our bestseller has already proven itself internationally more than 30,000 times. One module weighs only 8 kg fully active! This saves time during set-up and dismantling and space in the car and warehouse. The S12 PRO is the compact active subwoofer for the M-Line systems. It consists of a 12″ driver in a bass reflex configuration, powered by an 800 Watt Class D amplifier. The unit is also equipped with a 24bit/48kHz DSP.
Sound and lighting rental companies and installers have found reliable German quality in SE AUDIOTECHNIK for 40 years. We produce and control all products ourselves.
Get to know us! Feel free to discuss your questions and test demonstrations with our Sales Manager Germany at any time:
Manne Sumfleth
+49 151 – 15 15 55 77
m.sumfleth@se-audiotechnik.de