Blue Sound Veranstaltungstechnik GmbH from Beverstedt is a Premium Partner.
"By adding the mobile PA system from SE Audiotechnik, we have created another field of activity!" Herbert Heinze (l.) reveals why he relies on a compact system from SE Audiotechnik for the PA system of the trade fair in the ÖVB Arena.
Herbert Heinze has enjoyed a partnership with Bremen City Hall for more than 25 years: "We look after and maintain the pro audio systems in Halls 1 to 7, most of which were installed by us." In the multi-purpose hall, he now uses a mobile system from SE Audiotechnik, which is lightweight and features small dimensions. This saves us time during set-up.
8x M-F3A PRO loudspeakers and 4x S15 PRO subwoofers are used. The active M-F3A PRO is from the M-Line and weighs an unbeatable 8 kg. More than 30,000 of these are already in use worldwide. With the accessories, which are also lightweight, Heinze can stack or fly the systems.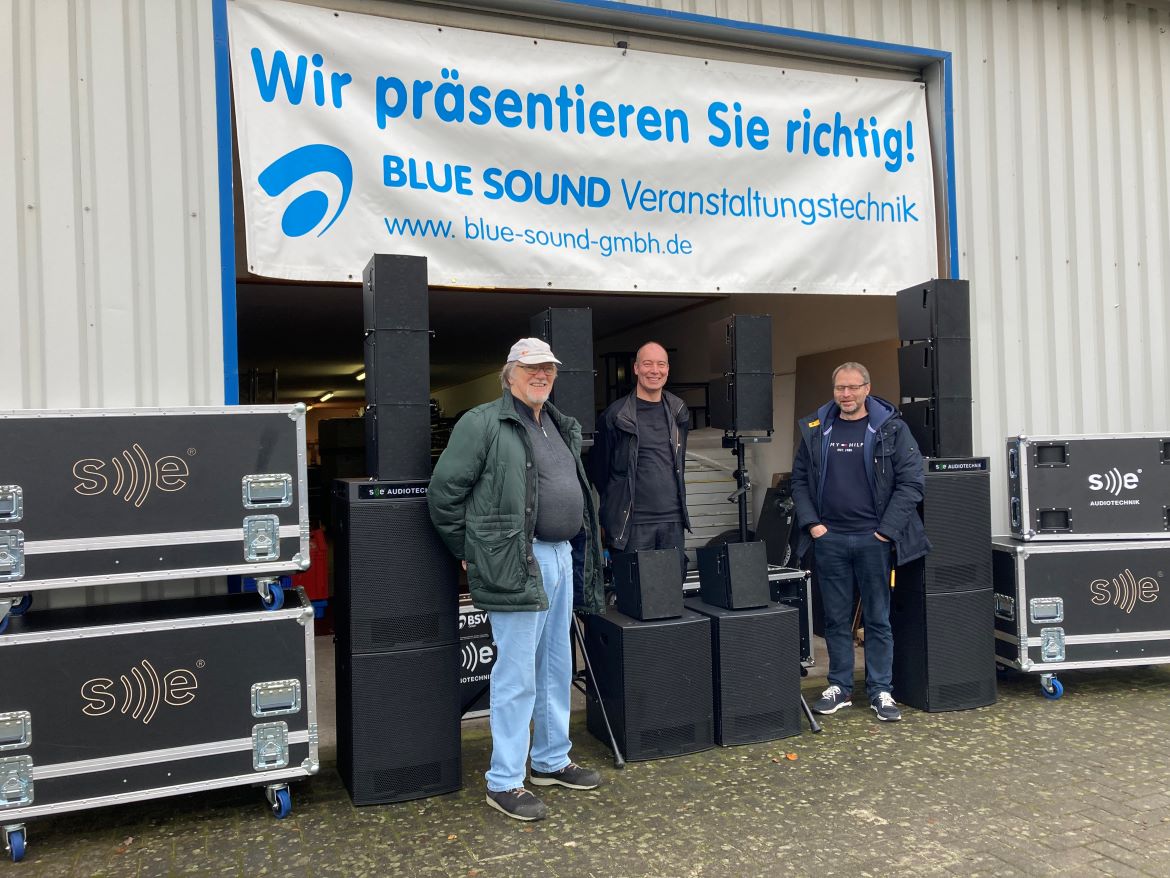 Heinze says: "For Messe Bremen, we use this system for trade fair and conference events. On average, 200 to 800 people will attend. But smaller events, such as vaccination and test centres or press conferences can also occur."
The foyer area of the ÖVB Arena is another application example: "We need to cover a wide variety of requirement profiles here." Flexibility is also required for meetings with seating: "In exhibition hall 4.1, we prefer to work with the flown variant."
Blue Sound has also been a successful service provider for many years to the Bremerhaven City Hall. The Stadthalle has also opted for a system from SE Audiotechnik, consisting of 10x M-F3A PRO and 6x S15 PRO. The newly procured SE Audiotechnik sound system is used, among other things, for meetings of the municipal council, when mayors and city councillors meet.
Our team in Solingen is pleased that Herbert Heinze trusts in the reliable German quality of SE Audiotechnik. Many thanks for that! With our international team of developers, we have stood for continuous development of our technology for 40 years.
Test our speakers at our premium partner Blue Sound in Beverstedt! www.blue-sound-gmbh.de
In addition to Bremen, we have selected partners available throughout Germany. You can find all of their addresses on our map of Germany.
For questions about products and demos, you can also contact sales manager Manne Sumfleth: sales.germany@se-audiotechnik.de

Get to know us!